Bear Dogs
Karelian bear dogs were originally bred for the purpose of hunting bears in Finland. Now, they are used to help conserve bear species around the world. Bear dogs undergo strict training in order to learn how to detect bears and chase them away from human inhabited areas back into the forest.
In 2004, we brought our first bear dog from the Wind River Bear Institute in Montana, USA, becoming the first organisation to use bear dogs for conservation in the whole of Asia. The dogs have played a crucial part in reducing the number of conflicts between humans and bears, bringing the number of sightings in residential Karuizawa down from 36 to 9 in just 10 years.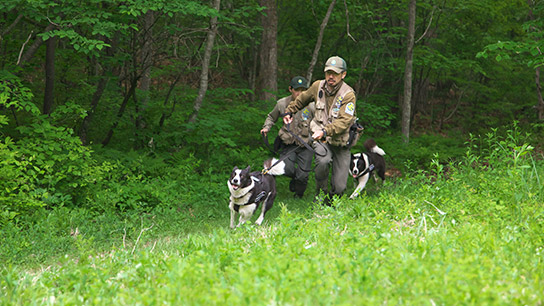 1. Chasing
This is a bear dogs' most important job. At the dog handler's command, they use their loud bark to scare the bears and chase any that try to approach residential areas back into the forest. They do all this from a safe distance, without attacking the bears or causing risk to the dog handlers. For the bears, which have a quick learning ability, any memory of bear dogs chasing them will discourage them from returning to human areas.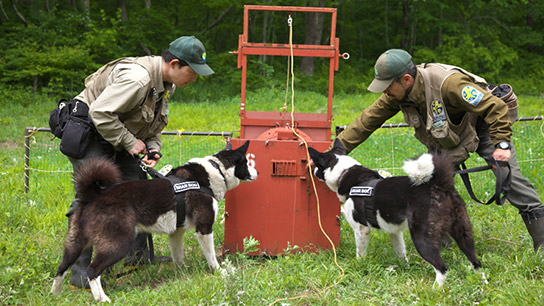 2. Detecting Bear Paths
Bear dogs can track the bears' scent and therefore their movements. When our staff arrive at a sighting area, the bear dogs can check the bear's path and alert staff which way the bear has gone, or if it is still close by. Additionally, they can seek out bears' regular paths. Knowing these is crucial for foreseeing conflicts and determining effective conflict prevention methods.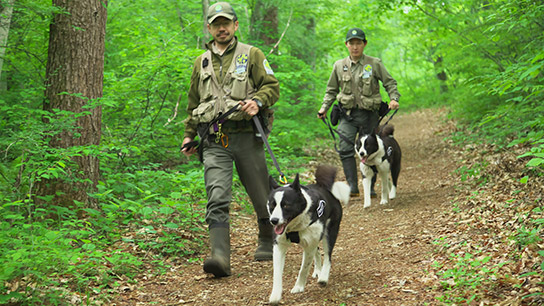 3. Maintaining Staff Safety
Although bears previously caught and tagged by us can be detected by staff using a tracking device, there are also many bears without radio collars which we cannot detect. If untagged bears are nearby and concealed from sight, it may be dangerous for our staff. In these cases bear dogs can pick up the bears' scent and warn us, enabling staff to work safely even at night.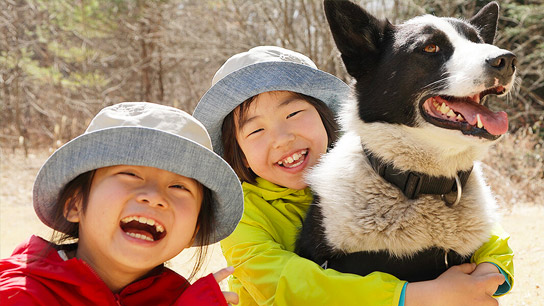 4. Bridging the Gap Between Humans and Bears
Picchio conducts seminars on how to safely share the environment with bears. We bring our bear dogs to these seminars to meet people, acting as ambassadors for the coexistence of humans and bears.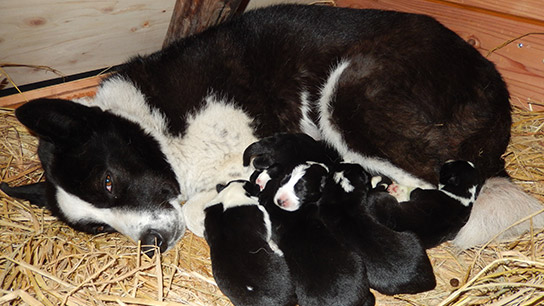 Successfully bred for the first time in Japan
From the night of March 31, 2018 till the noon of April 1, 2018, one of Picchio's bear dogs, "Tama", gave birth to six puppies, giving rise to the first bear dog birth in Japan.
Previously, all our dogs had been transferred from the Wind River Bear Institute in America, a special institute for the breeding of Karelian bear dogs. But in 2017, we decided to launch our own Bear Dog Breeding Project in order to sustain bear dogs in Japan for the future. As well as breeding, the project includes the provision of specialised bear dog training to the pups.
It's thanks to receiving over 6 million yen (* 1) in donations that we were able to start this project (*2).
1* As of April 1, 2018
2* The first donations were used to build a dog hut for parents and pups, and for transportation costs of bringing a male dog from America for breeding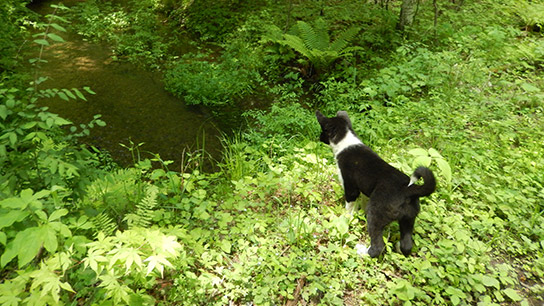 The Bear Dog Exam
Despite belonging to the Karelian bear dog breed, not all puppies can become working bear dogs. At 3 months old they undertake an aptitude test to assess various abilities such as fear of bears, interest in scent, etc. Of the six puppies born in 2018, only two passed the test to continue the training for becoming fully fledged, working bear dogs. The rest became staff pets.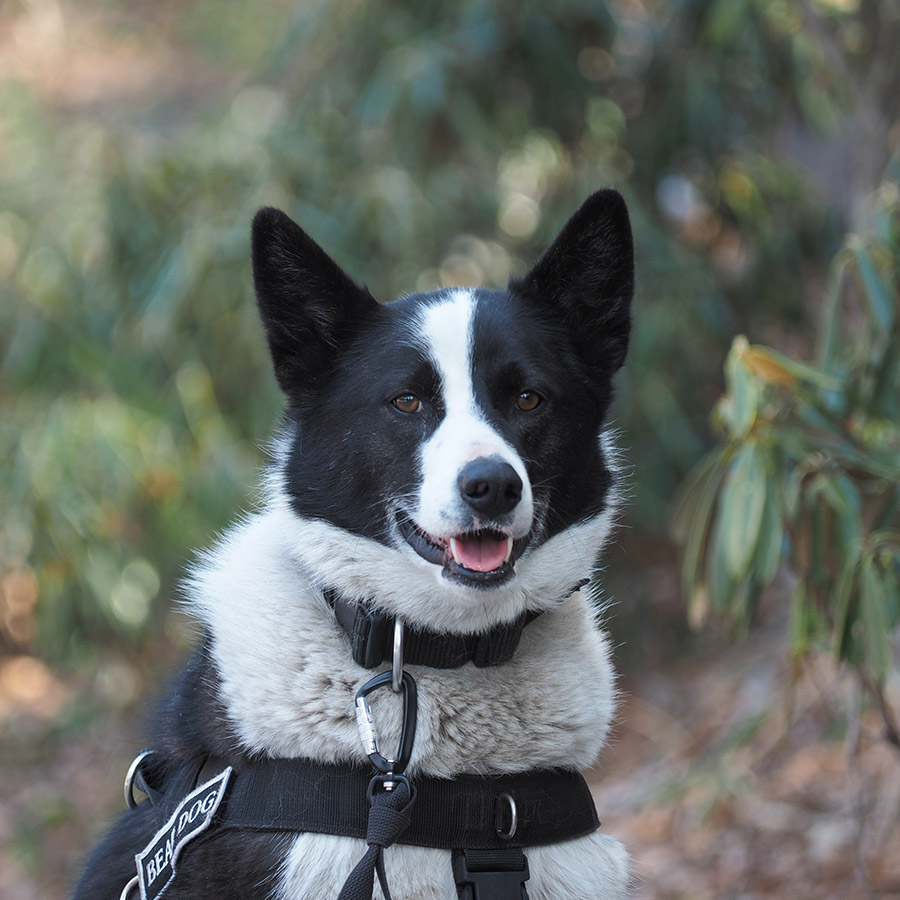 Nanuq ()
"Nanuq" means "polar bear" in the Inuit language. Nanuq is known among Picchio members for his laidback personality and easy smile. With big ears for easily catching the sound of bears and other animals, Nanuq carries out his work without a fuss. Brother of Tama. Uncle of Rela and Elf. Born March 26, 2014.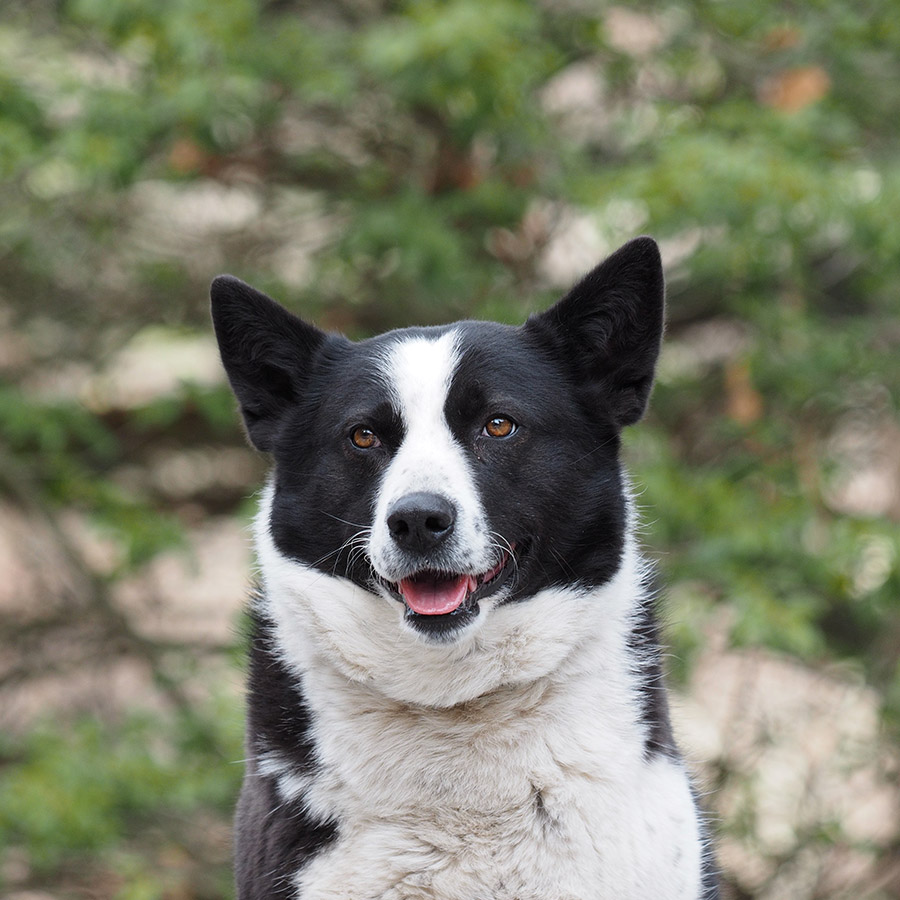 Tama ()
"Tama" means "bullet" in Japanese. Named after Picchio's first bear dog "Bullet", Tama loves to sniff the forest for the scent of bears. The small cute spots on her face and legs distinguish her from other bear dogs. Sister of Nanuq. Mother of Rela and Elf. Born March 26, 2014.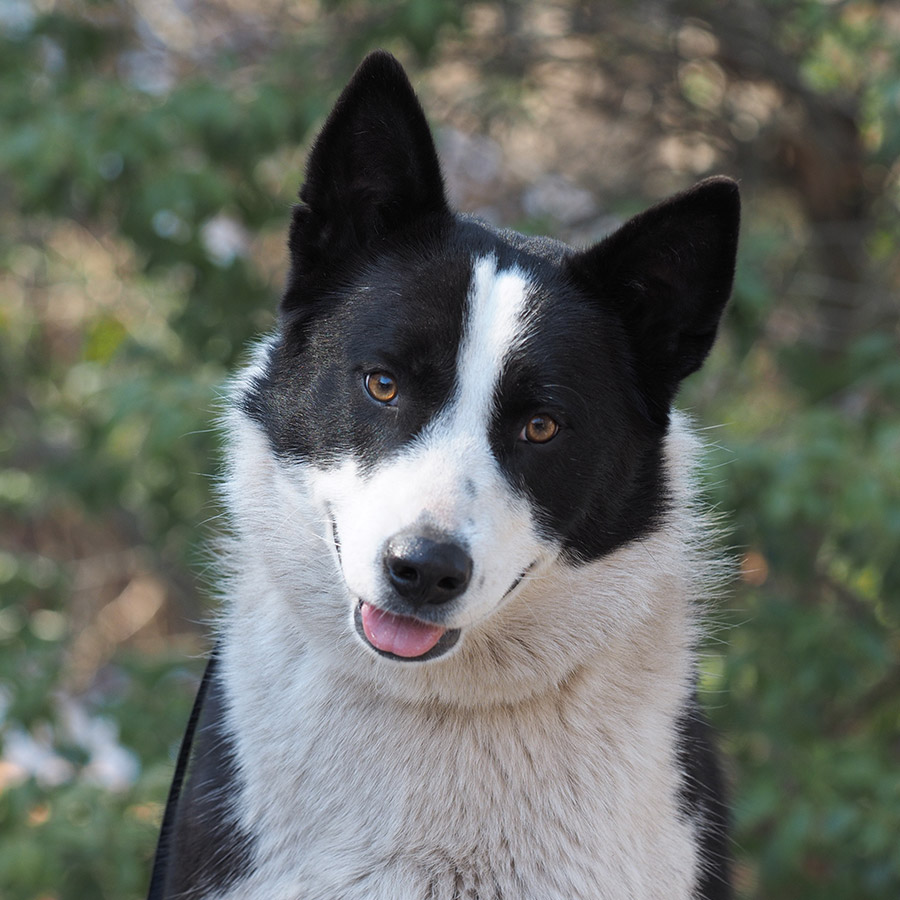 Rela ()
Rela means "wind" in the Ainu (indigenous peoples of northern Japan) language. This name was chosen in tribute to the Wind River Bear Institute for first establishing the use of bear dogs as a method of coexistence. Even at a young age, Rela displayed independent and unique behaviour compared to other puppies. Brave, bold, and a people lover. Born 11:13pm on March 31, 2018.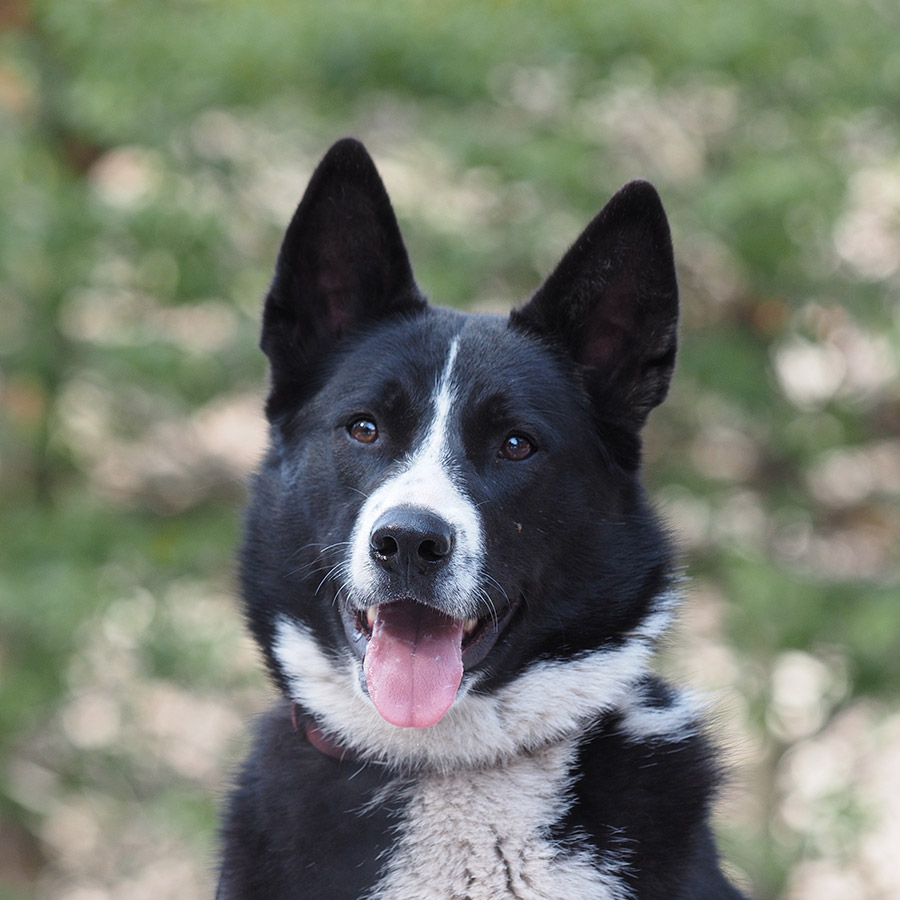 Elf ()
Elf wasn't breathing at birth and had to be resuscitated by one of our staff. She was the smallest of the litter and so was named after a small god in Scandinavian mythology. Despite her weakness at birth, Elf is now a fierce and proud bear-dog-in-training and shows immense potential with her enthusiasm for finding and chasing bears. Born 10:08am on April 1, 2018.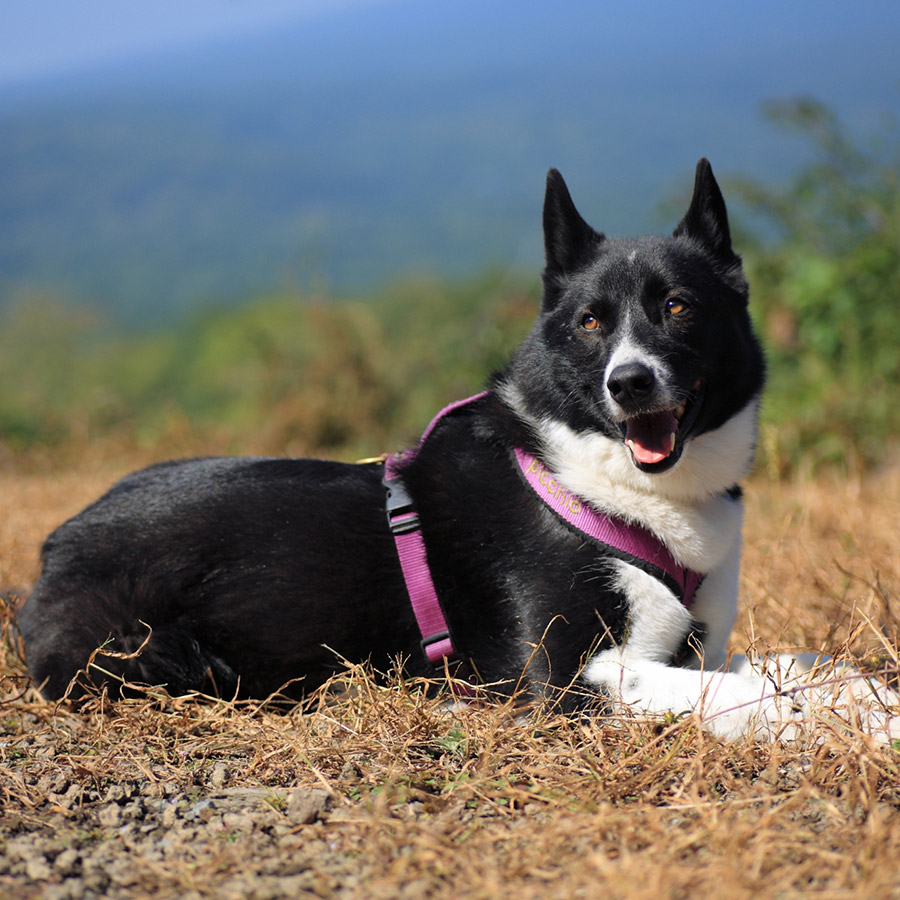 Bullet ()
Picchio's first bear dog
As the first bear dog in Japan, he has over 400 bear hunts since she came from the United States in 2004. Bullet features as a character in the children's book "Horse the Bear! Bullet" (Gakken Publishing 2012), and was the first non-human to receive the Nagano Prefecture Hometown Forestry Award (2013). Died from leukaemia April 19, 2013.
We need your help
Picchio aims for this coexistence and is taking actions to make humans and bears able to live together while maintaining a moderate distance.
Donate